Revolutionize Your Investing Strategy: Harness the Power of S&P 500 Seasonality
Do certain periods consistently deliver superior market performance? Dive into the world of market seasonality—a crucial and often overlooked element that can sway the tide of stock prices. Here, we've crafted innovative tools to pinpoint these recurrent patterns, empowering you to redefine the way you invest.
Elevate Your Investment Game with the S&P 500 Seasonal Trends
Stay ahead of the curve by harnessing the power of seasonal trends that shape the S&P 500 Index. Our pioneering approach equips you with the tools to tap into these patterns, amplifying your investment performance. We bring you real-time, actionable insights crafted to refine your investment strategy.
Since the dawn of the millennium, we've meticulously tracked the performance trajectory of the S&P 500. The takeaway? Some weekdays consistently outperform others—a groundbreaking revelation for investors worldwide!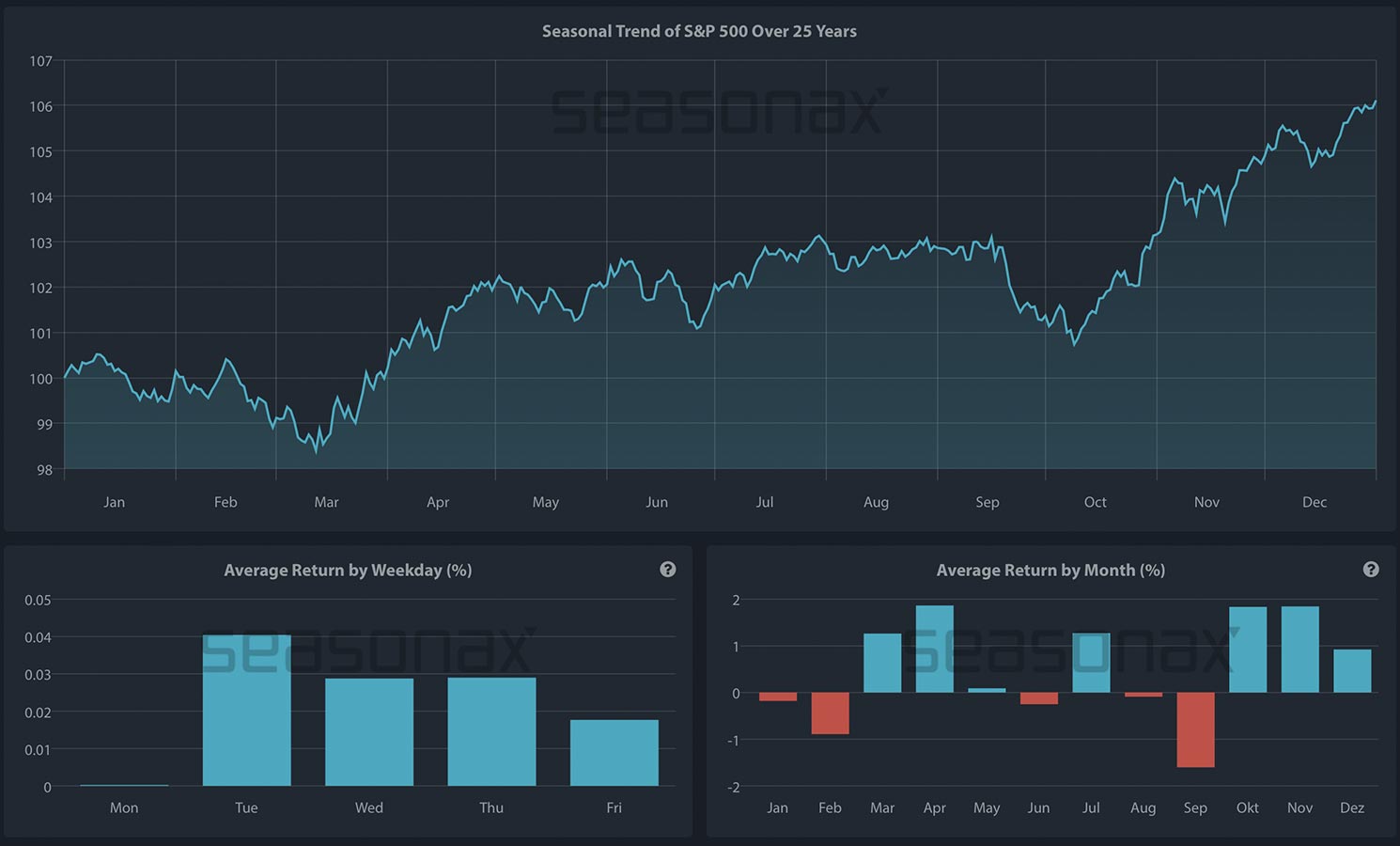 Discover High-Yield Investment Prospects in a Flash
Comprehensive S&P 500 Seasonal Analysis: Tap into our nuanced seasonal outlook on the S&P 500 Index to supercharge your investments.
Seasonax Screener: Rapidly sift through over 25,000 instruments to spot profitable seasonal patterns.
Custom Alerts: Stay in the know with alerts for promising seasonal patterns in instruments of your interest.
Portfolio Optimization: Elevate your investment performance by calibrating your strategy to seasonal trends.
We've done all the heavy lifting for you!
We spent 10 years and about 30,000 hours compiling all the data.
Now you can pinpoint hundreds of high probability seasonal trades on S&P 500 stocks in very specific time windows with just a couple clicks.
The best part? It's completely free for 30 days. No credit card required.
Just enter your email and get access immediately