With Memorial Day marking the unofficial start of the summer season in the United States, it's not only outdoor activities, vacations and barbecues that see a spike in consumer spending. The "Wining and Dining" sector also experiences a significant surge, as people indulge in festive meals, chilled drinks, and dine-out experiences. This increase in consumer spending often serves as a catalyst for summer growth in related stock sectors.
With the sheer volume of options available, it can be challenging to select the perfect one to enhance your portfolio as much as your taste buds.
Among the appealing options is Wingstop Inc. (WING), a favorite among chicken wing enthusiasts. This stock has been flying high since its inception. With a simple menu focusing on chicken wings and sides, this company's streamlined operations have contributed to impressive profit margins and the lasting seasonal trend that can still be caught.
Overall, this foodie stock had an impressive return of 30% during the time period from June 1 until August 14 over the last 7 years. However, it's important to remember that the stock market is unpredictable and past performance is not a guarantee of future success.
Seasonal Chart of Wingstop Inc over the past 7 years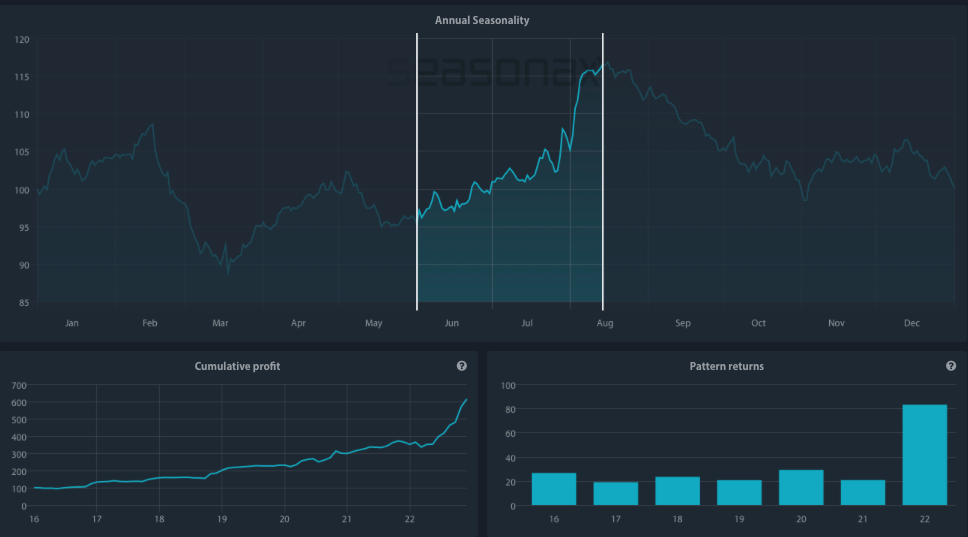 Source: Seasonax, to open an interactive chart click on the following link http://tiny.cc/Seasonax-Wingstop
Keep in mind that a seasonal chart depicts the average price pattern of a specific asset in the course of a calendar year, calculated over several years (unlike a standard price chart that simply shows prices over a specific time period). The horizontal axis depicts the time of the year, while the vertical axis shows the % change in the price (indexed to 100). The prices reflect end of day prices and do not include daily price fluctuations.
In the world of "dining", Mexican cuisine fans can satisfy their senses with famous spicy burritos from Chipotle Mexican Grill Inc. They've rebounded with a vengeance from food safety concerns in the past, demonstrating the strength of their brand and operational efficiency. Chipotle's emphasis on fresh, 'food with integrity' has made it popular among health-conscious consumers, a rapidly growing market segment.
Starting in late June, warmer weather, longer days, summer holidays and vacation times, all contribute to more customers dining out or ordering takeaway, leading to potentially higher revenues and profits, which may positively impact this stock price.
Seasonal Chart of Chipotle Mexican Grill Inc over the past 10 years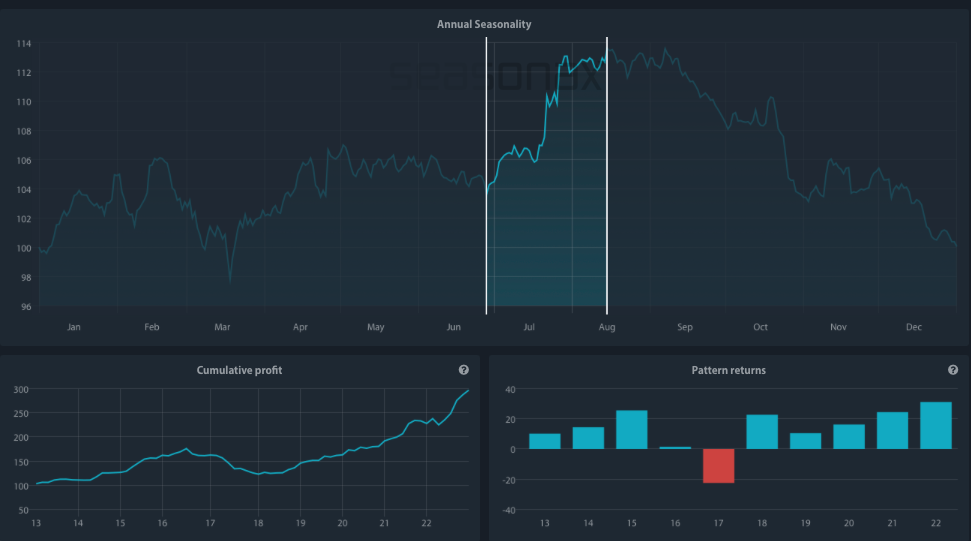 Source: Seasonax, to conclude further analysis click on the following link http://tiny.cc/Seasonax-Chipotle
As highlighted in the chart, over the past decade, from June 28 to August 16, the company has boasted a notable return of over 12%. What's more, this trend has proven to be consistently profitable since 2013, except for a hiccup in 2017.
However, it's crucial to understand that while seasonality can be a factor, it's not the only one. Other variables such as changes in food costs, labor costs, competition, and overall market sentiment can influence the stock's performance. Also, any company-specific news or events can significantly impact the stock price.
Shifting our focus to the "wining" segment, certain consumer staple stocks have demonstrated consistent and impressive returns during this period over the last decade. Monster Beverage Corporation, for instance, has already initiated its seasonal trend, which typically runs from March to August.
Another company that benefits from the consumer's desire for refreshing drinks in the warmer weather is Treasury Wine Estates Limited.
Seasonal Chart of Treasury Wine Estates Limited over the past 10 years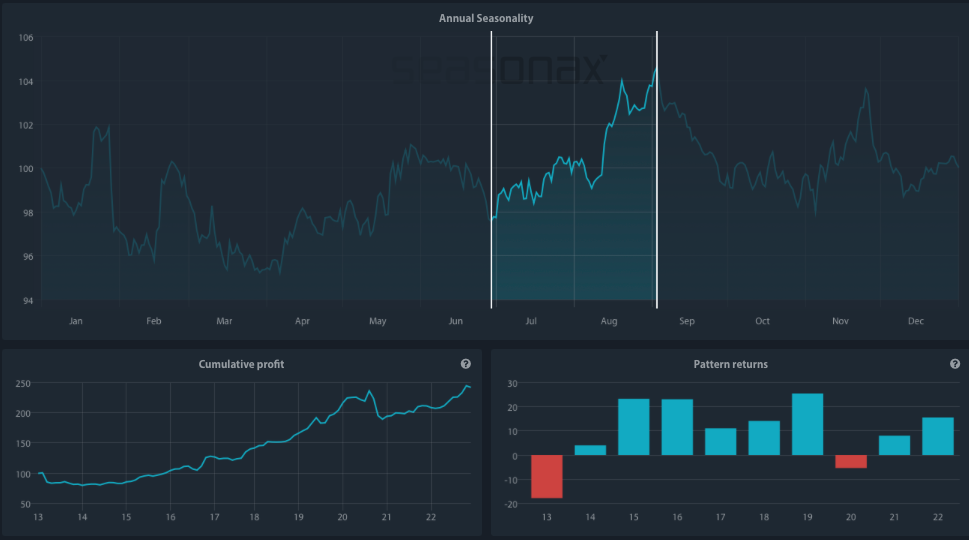 Source: Seasonax, for further analysis click on the link http://tiny.cc/Seasonax-TreasuryWine
Looking at the seasonal chart above, over the past 10 years the time period from June 29 until September 03 has been more than favorable. In the short time span of 48 trading days, shares of this wine giant rose on average by 9.34%. Moreover, since 2013 the pattern returns had a winning strike of 80%, making this stock even more interesting for future investment.
Another angle to consider could be food and beverage companies sponsoring major sporting events over the summer months. For instance, global beverage company Perrier is an Official Sponsor at the French Open tennis event staged starting at the end of May, whilst Pimms is synonymous for some with the Wimbledon Championships taking place in July. These events are followed globally by millions of people, and could make it an interesting time to look at the seasonality trends of these beverage brands and others advertising at the summer's leading sporting attractions.
Wherever you decide to wine and dine be sure to leverage Seasonax to identify the optimal entry and exit points based on recurring patterns. By signing up for free at www.seasonax.com, you can access over 25,000 instruments, encompassing various sectors, stocks, (crypto)currencies, commodities, and indices.
Remember, don't just taste it, Seasonax it!
Yours sincerely,
Tea Muratovic
Co-Founder and Managing Partner of Seasonax