With the culmination of one of the most anticipated earnings weeks in the tech industry, it's clear that the race to shape the future of artificial intelligence (AI) is on. Giants like Microsoft, Alphabet, Meta, IBM, and Amazon have not only all reported financials, but also given us a glimpse into how they are innovating in the realms of AI. And there's one thing they all have in common!
Back in the day, we had all heard about the famous retailer Target, whose AI algorithm successfully mastered the art of using data to predict life events. It could guess things like if you were expecting a baby, even before you started stocking up on diapers!
But, in the preset day, how are our big techs now shaping the AI world and shifting the boundaries?
The future of AI
Generative artificial intelligence is a data-intensive business. This is great news for a big company like Microsoft, who has been at the forefront of integrating AI into its products: from its cloud computing platform Azure, to its Microsoft 365 Copilot.
Moreover, with its recent investment in OpenAI, best known for its chatbot ChatGPT3, it is taking the AI world by storm.
Just last week, their earnings report sent shares soaring, outdoing even Wall Street's estimates. But this wasn't a one-time wonder.
Looking at the seasonal chart below, there has been a clear trend that starts on October 2nd and lasts until November 8th. During the highlighted time period, over the last 15 years this tech giant made an impressive annualized return of over 116%, and an average return of over 8%. This has reoccurred 11 times since 2009.
From a fundamental perspective, the consistency of this pattern is mainly due to earnings' surprises, which typically drive the stock's price up in the last quarter.
Seasonal Chart of Microsoft over the past 15 years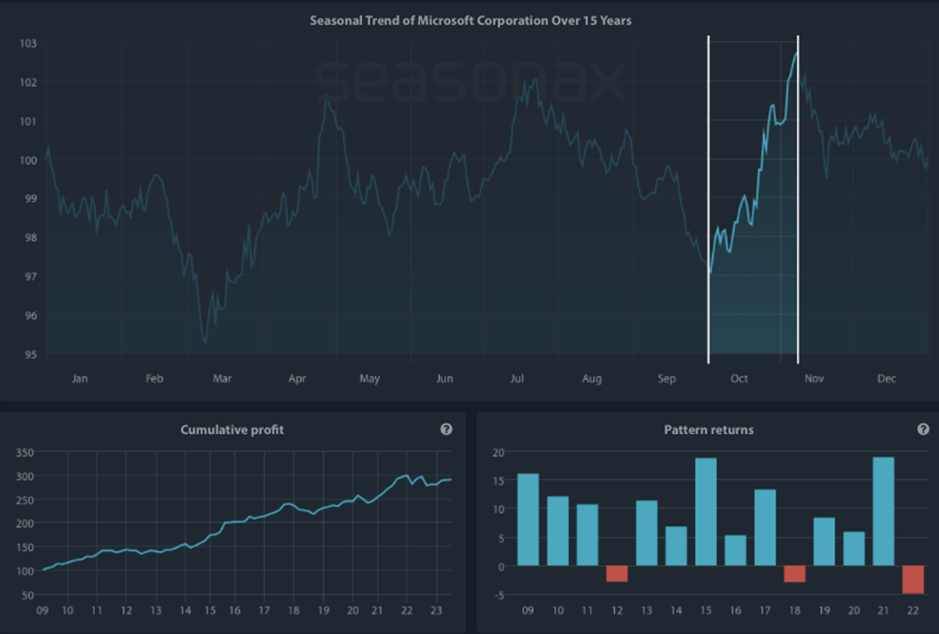 Source: Seasonax – Click the link http://tiny.cc/Seasonax-Microsoft to access an interactive chart.
Unlike regular charts, a seasonal chart doesn't display price over a set time, but shows the average trend over several years. The horizontal axis represents the time of the year, and the vertical axis shows the % change in price (indexed to 100). The prices reflect end of day prices and do not include daily price fluctuations.
While Microsoft is on the front foot, showcasing technology that challenges Google's two-decade search dominance, Google isn't on the sidelines. They've introduced Bard, their ChatGPT rival, and are rolling out updates in response to Microsoft. With Google's significant investments in AI, expect them to present innovations that will captivate investors. However, following last week's earnings report, Google parent Alphabet was trading down. Does this present a buying opportunity for fans of the company?
Take a look at the 10-year seasonal chart and its underlying trend fluctuations here: http://tiny.cc/Seasonax-Alphabet
Another company that that was in focus last week is Facebook parent Meta Platforms.
A big reason for Meta's growth is Zuckerberg's focus on AI, while maintaining a hefty investment in metaverse technologies. Meta has also started rolling out generative AI tools that can create content for all advertisers, like image backgrounds and variations of written text. From the start of the year Meta has gained over 150%, and reported better-than-expected results for the third quarter, as revenue increased 23%.
There is no doubt that Meta is here to stay. But the question remains: when is the best time to join the ride?
From the seasonal chart below it is clear that over the past 10 years, the period from November 2 has presented a good opportunity to enter into this trade.
Seasonal Chart of Meta Platforms over the past 10 years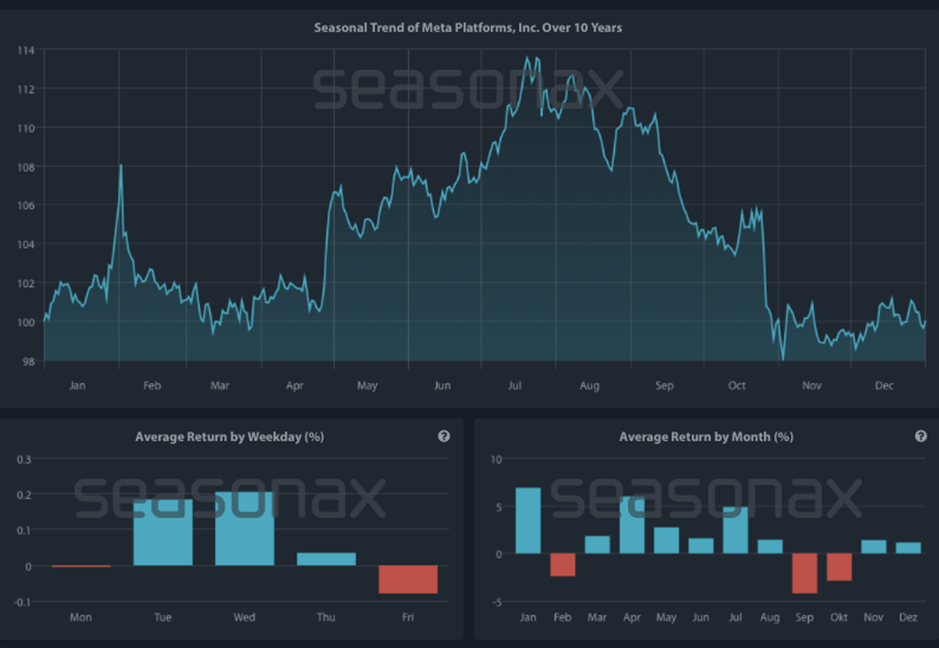 Source: Seasonax – Click the link http://tiny.cc/Seasonax-MetaPlatforms to access an interactive chart.
However, as we all know, history doesn't always repeat itself, but it often rhymes!
On that note, this earnings week has made one thing evident: the AI industry is filled with companies that are like the superheroes of technology; each with their own unique powers and abilities, working towards a common goal, to shape the future with AI. This is a future that investors are clearly supportive of and excited about.
When choosing the "right" one, you can make use of Seasonax to identify best entry and exit points based on recurring patterns. By signing up for free to https://app.seasonax.com/signup, you will be able to scan for more than 25.000 instruments, including different sectors, stocks, (crypto)currencies, commodities, and indexes.
Remember, don't just trade it, Seasonax it!
Yours sincerely,
Tea Muratovic
Co-Founder and Managing Partner of Seasonax