Dear Investor,
As you may have noticed, the price of gold recently touched the psychologically important round mark of USD 2,000 per troy ounce, before coming back down again.
Gold is thus at a technical resistance zone that has formed over the past three years. This is because the price of gold reached USD 2,000 in 2020, 2022 and the first half of 2023.
If the breakout is successful, the price of gold should gain significantly, and make up for the rise that the resistance zone has previously denied it.
This now makes it all the more important to assess the prospects for gold on a seasonal basis.
Gold under the seasonal magnifying glass
The chart below shows you the seasonal development of the price of gold. In contrast to conventional charts, it does not show the price over a specific period, but the average course of returns over 55 years depending on the time of year.
The horizontal axis of the chart shows the time of year, while the vertical axis shows price information. This allows you to recognize the seasonal trend at a glance of the seasonal chart.
Gold, seasonal trend, determined over 55 years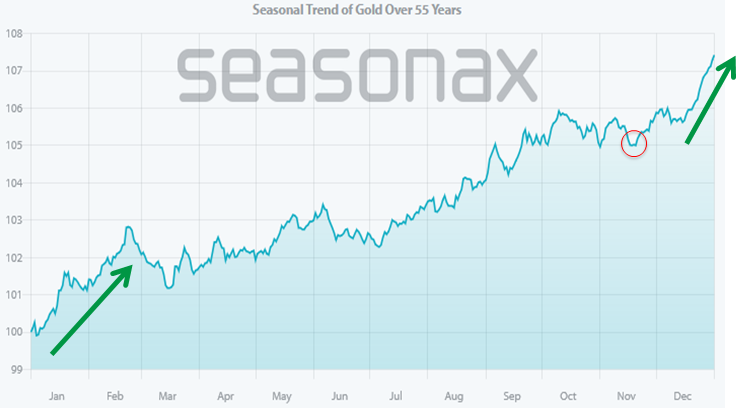 The upcoming seasonal phase for gold is positive. Source: Seasonax
As you can see, a very good seasonal phase begins in mid-November, and then accelerates in mid-December, extending into the second half of February. This is the best season for this popular precious metal.
Seasonality versus resistance: who wins?
In seasonal terms, a particularly good phase is about to begin.
At the same time, however, the gold price must first overcome the resistance zone, the upper end of which lies at USD 2,060.
Overcoming such resistance can take time, as the example of the price of gold in recent years shows.
The coming weeks, especially the period from mid-December, could therefore be very exciting for the price of the precious metal.
What is the seasonal trend for your favorite stocks?
As you can see, seasonal analysis can be combined well with other methods of analysis.
In this specific example, the probability that gold will finally break through the USD 2,000 mark after more than three years, and then rise more strongly, is increased until February.
The combination of increased return probabilities is the ideal route to market success.
It's particularly easy with Seasonax. Simply call up Seasonax and view the seasonal trends for your favorite values!
Best regards,

Founder and chief analyst of Seasonax
PS: Combining an existing trading strategy with seasonality can further increase the probability of returns!